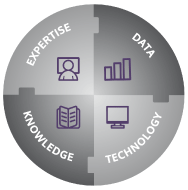 Our four-part methodology – which includes Data, Technology, Knowledge and Expertise – provides a foundation for organizational excellence in more than 8,000 client companies around the globe. Our Predictive Index® system, Selling Skills system, and Influencing Skills system are built upon this integrated approach, which allows you to use predictive data to achieve tangible improvements in business metrics such as productivity, retention, and revenue. These workforce benefits directly lead to high-performing work environments and create real, competitive advantage.
We partner with you to help you leverage workforce analytics for better decision making within any industry, culture, or business model. Our methodology provides you with the skills, metrics, and custom reports that drive better communication, team effectiveness, employee development, and growth.
---
---
  Data
Science-based assessments are the foundation of our methodology – everything starts with the data. Our assessments measure critical dimensions of behaviors and skills in the workplace. The Predictive Index assessment, developed in 1955, was among the first to quantify the importance of behavioral drives and needs in the workplace. Since then, we've added additional assessments that continue the tradition of providing you with unprecedented insight into your leaders, employees, and candidates.
Our assessments include:
The Predictive Index (PI®), and the Performance Requirements Options (PRO) in our Behavior Suite.
Selling Skills Assessment Tool™ (SSAT), and Influencing Skills Assessment Tool™ (ISAT) in our Skill Suite.
Learn more about our Predictive Index®, Selling Skills and Influencing Skills assessments.
---
---
  Technology
In today's fast-paced organizations, our clients require on-demand access to our tools and data. To support this need, we offer a variety of web-based solutions that allow you to collect, analyze, and apply assessment data to your most critical business challenges. We also offer robust integrations to industry-leading HRIS and ATS platforms to automate the process of applying workforce analytics more easily.
Our technology programs include:
In our Behavior Suite, accessPI™, accessPI-Connect™, and PI Campus™.
In our Skill Suite, reports at the individual, team, and department levels.
Learn more about our Predictive Index®, Selling Skills and Influencing Skills technologies.
---
---
  Knowledge
Education and knowledge transfer are essential elements of our partnering strategy with our clients. For more than 50 years, we have helped our clients develop subject matter experts to interpret and apply their own data within the context of their own organizations. Our powerful programs, combined with ongoing complimentary support, ensure competence is developed inside your organization. Our clients cite our education programs as transformational in their ability to manage and lead others and to better understand themselves.
Our knowledge programs include:
Learn more about our Predictive Index®, Selling Skills and Influencing Skills knowledge programs.
---
---

  Expertise
Our global consulting network consists of 45 Member Firms representing 400 professional consultants. These experts provide the highest levels of applied experience, industry knowledge, and service. As part of the PI Worldwide community, each consultant brings a unique combination of global experience and local presence. They serve as trusted business advisors and have earned a client retention rate of more than 90%.
Our consultants can engage with your organization for strategy planning sessions, group analytics work, team optimization, leadership development, succession planning, and strategic workforce planning.